Arabic news
16 new trade deals concluded by the Kingdom of Bahrain at the China International Import Expo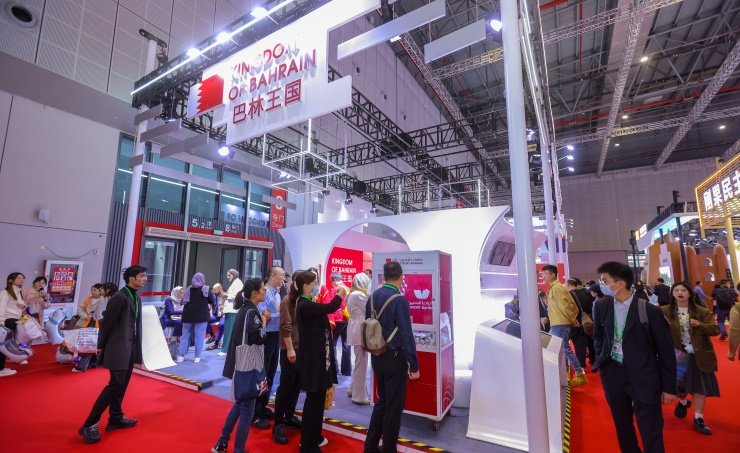 16 new trade deals concluded by the Kingdom of Bahrain at the China International Import Expo
 
Gulf News
The Kingdom of Bahrain's pavilion excelled at the China International Import Expo 2023, as its activities concluded with great success, achieving a large number of potential partnerships and agreements. Over the course of five days, the Kingdom of Bahrain captured the attention of visitors and officials, recording a huge turnout from entrepreneurs, investors and strategic partners, and the number of visitors exceeded one million, according to Statistics Bureau statistics.
The pavilion succeeded in facilitating more than 16 deals in various commercial sectors, including watches, spices and perfumes, in addition to expectations of concluding more than 10 other commercial deals. This superiority largely reflects the serious efforts and remarkable success achieved by the teams working in the pavilion.
As part of the exhibition's side events, a memorandum of understanding was signed between Bahrain Exports and the e-commerce giant Alibaba.com, which is an important step towards enhancing the promising opportunities for global trade. This agreement marks the beginning of a new era for trade relations, strengthening Bahraini presence in global markets. This strategic partnership was strengthened during the 6th China International Import Expo in Shanghai, marking a historic development in the record of economic cooperation between the two countries.
The complementary activities of the exhibition witnessed more than 40 working meetings organized by Export Bahrain with its partners, which is expected to result in great cooperation between the Bahrain International Exhibition Center and important destinations in the Republic of China. This cooperation aims to strengthen the Kingdom of Bahrain's position as a leading destination on the global exhibition map, and attract more investments, economic and commercial activities to the region.
Mrs. Fatima Aziz Rustom, Executive Director of Operations at Export Bahrain, praised the distinguished representation that reflects the positive image of the Kingdom of Bahrain's leading position regionally and globally. She stressed the importance of strengthening trade relations with the People's Republic of China, noting that these relations represent an essential foundation for enhancing economic growth and achieving mutual benefit.
For more: Follow Khaleejoon News. For social media, follow us on Gulf people
.
For more news: Elrisala ، For social communication, follow us on Facebook .
Source of photos and information: khaligyoun