Technology
3D technology becomes a key element for personalized medicine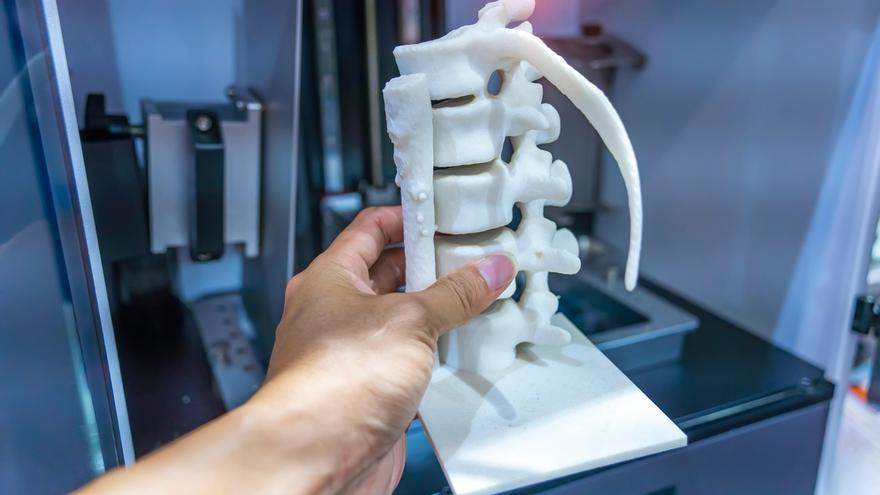 The latest trend in 3d print In the health field, its focus is on improving the personalized medicineand this covers a wide spectrum in treatments, surgeries and corrections. In this sense, the company IAM3DHUBinstalled in the Dfactory of Barcelonathe industry 4.0 ecosystem driven by Barcelona Free Trade Zone Consortiumis developing additive or 3D manufacturing projects aimed at optimizing the work of doctors and the quality of life of patients.
Currently, the additive manufacturing is being the protagonist of incredible medical advances that facilitate recovery in patients when undergoing certain clinical procedures. The medical disciplines where the use of this three-dimensional technology is most effective are traumatology, cardiology, dentistry, neurology and maxillofacial, thoracic and orthopedic surgeries.
And one of the actors that is developing new projects and contributing greatly to this new era of 3D medicine is the company IAM3DHUB. This digital innovation centerspecialized in additive manufacturing and 3D technology, is located in the largest industry 4.0 hub of southern Europe, the ecosystem known as Dfactory. This initiative, led by the Barcelona Free Trade Zone Consortiumaims to attract talent, technology and investments to encourage progress technological. Thanks to the collaboration between technology companies that this strategic situation grants, IAM3DHUB can combine different technologies, which benefits the industry and society in general.
An advance for people's health
IAM3DHUB is specialized in the aeronautical, aerospace and medical sectors, and stands out for creating all types of anatomical models intended for facilitate surgery planningto reduce intervention times already improve results after operations. Currently, the company collaborates with the 3DLab of the Parc Taulí Hospital in Sabadell, pioneer and reference in Europe in the clinical application of 3D. Together they work to advance the use and implementation of the 3D manufacturing for your customized solutions.
In this sense, the majority of innovative projects developed at the Parc Taulí Hospital have addressed important clinical challenges. From projects to manufacture personalized 3D breast prostheses to avoid the discomfort caused by standard prostheses used in post-mastectomy breast reconstruction, to the production of all types of implants for traumatology. And on his way, IAM3DHUB has contributed to the creation of personalized prostheses, precise anatomical models, personalized implants and other medical devices.
The possibilities are endless and can reach unimaginable limits. Because medical needs are as different as each patient's circumstances. In reality, the 3D manufacturing makes a significant contribution to society and advancement of medicine by allowing the creation and use of a wide variety of custom elements: ranging from fixtures and tools complex, even cutting guides for traumatologists and implants all types: hip, bone fracture union plates, dental, cranial, maxillofacial, mandibular implantsetc.
Related news
The best part is that there is still a long way to go on this path towards the progress of 3D medicine. In fact, applications are already being developed using biocompatible and bioimplantable materialswhich leads us to anticipate revolutionary advances in the field of health and surgery.
David Adrover Iglesiassecretary general of IAM3DHUBconsiders it an advantage to belong to the multidisciplinary ecosystem of 4.0 technologies Dfactory, powered by Barcelona Free Trade Zone Consortium, because there are many potential synergies between different technological fields, and this contributes to finding the best and most complete solutions to the objectives of your projects. Thanks to this collaborative environmentwithin their 3D printing laboratories they use artificial intelligence, supercomputers and robotics applications which are installed in the Dfactory. This allows them, for example, to automate tasks and design and optimize 3D printing parameters on industrial equipment that works with metal. In short, belonging to the Dfactory ecosystem allows them to maximize efficiency and innovation in their technological projects.
.
For more news: Elrisala ، For social communication, follow us on Facebook .
Source of data and images: elperiodico