Sports
Aldama continues to be sweet: 28 points against the Celtics, his NBA record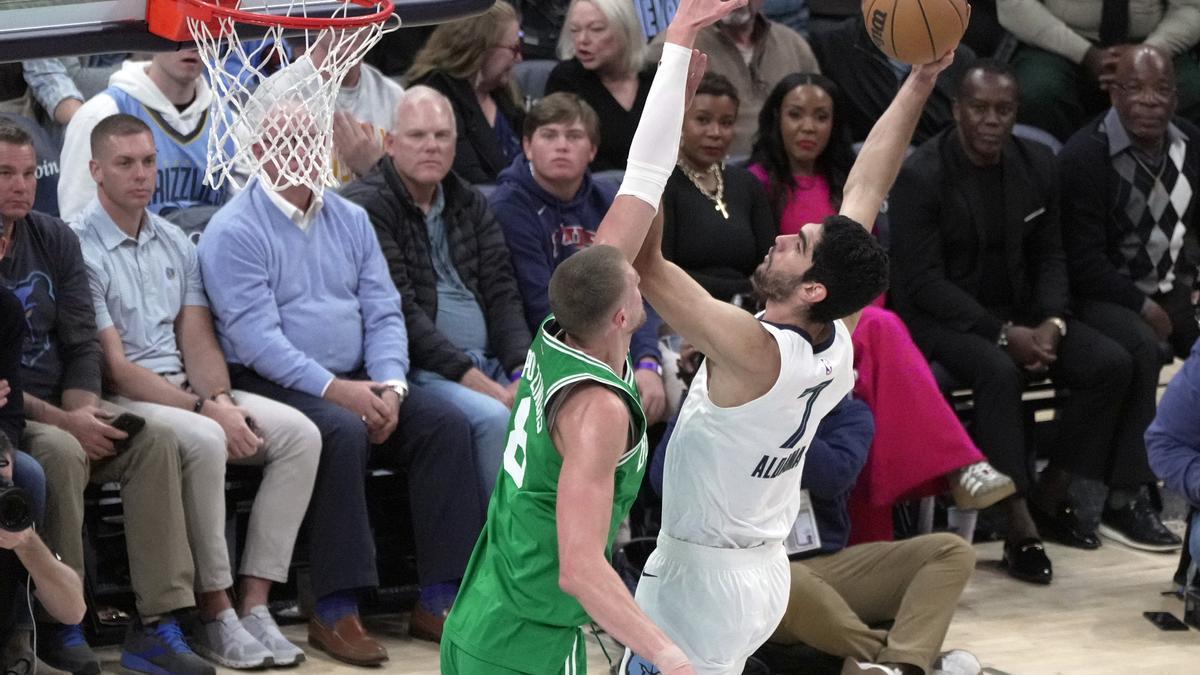 Aldama continues to be sweet: 28 points against the Celtics, his NBA record
 
by: Hani Kamal El-Din
Santi Aldama continues to make a name for itself NBA in leaps and bounds with its prominence in the Grizzlies. With an outstanding performance, the 22-year-old Canarian center was about to knock down Bostonthe most outstanding team in the championship, on their visit to Memphis and completed the best performance of his career with 28 points and 12 rebounds. The Celtics ended up taking the 100-102 victory, their sixth in a row, after Aldama He had a triple to take the win, which ended up not going in.
The nursing of the Grizzlies It's something to cry about. They faced the private meeting of Ja Morant (punished with 25 encounters for his incidents with firearms), without Steven Adams, Brandon Clarke, Luke Kennard, Derrick Rose, Marcus Smart, Xavier Tillman and Jake LaRavia.
Even so, they were on the verge of working the miracle, hooked on the leadership of Aldama, who set several personal records in the match. With his 28 points and 12 rebounds, he added six assists and two steals. He made six three-pointers and went 11 of 27 in shooting. He had never scored so many points, nor so many triples.
SANTI ALDAMA TOLEDO ❤️🇪🇸

🌟28 points (career-high)
🌟12 rebounds
🌟6 assists (career-high)
🌟2 thefts

He came from making a 17+10 against the Spurs and scoring 24 points against the Lakers. pic.twitter.com/UQKdhS4Ywo

— NBASpain (@NBAspain) November 20, 2023
"It was really impressive. "Without him we would not have had the opportunity to win tonight," confessed the Grizzlies coach. Taylor Jenkins. He also had words of praise for his partner Desmond Bane. "It was spectacular. It is very dynamic. There are many things you can do. "I'm happy for him."
Absent in the first seven games of the season due to an ankle injury, Aldama has returned stronger than ever. His last three games have been outstanding. Against the Lakers he finished with 24 points, 5 rebounds and 4 assists. Against the Spurs he finished with 17 points and 6 assists. And against the Celtics he nailed it again.
Maximum confidence
The international center gave a new example of his enormous versatility and, forced by absences, started as a starter in the 5 position, with the Latvian Porzingis in front, but at times he had to do it as a 4 and even as a high forward, pairing with Jayston Tatum and Jaylen Brown. In his 39 minutes on the court he left a long repertoire of triples, dunks, assists from behind, intimidation and steals.
Santi Aldama (@santialdama).

🗣️His reflection after signing a 28+12+6 vs Boston.

22 years old. pic.twitter.com/5KfcaJuFe9

— NBASpain (@NBAspain) November 20, 2023
"I'm lucky that I have teammates and a coaching staff that trust me," he himself said. Aldama At the press conference. "The coach told me before the game that I had to continue being aggressive, but knowing that I was going to defend smaller rivals, so I had to be more aggressive," commented the Canarian player who just a month ago extended the contract he had. With the Memphis franchise he spends the 2024/2025 season, ensuring one more season, for which he will receive 3.9 million dollars.
Related news
Boston's best was the Latvian center Kristaps Porzingis with 26 points, 8 rebounds, an assist, a steal and 6 blocks while Jayson Tatum He added 20 points, 9 rebounds, 5 assists, a steal and a block.
The top scorer of the match was Desmond Bane with 30 points, 2 rebounds, 8 assists and a steal. Jaren Jackson He added 17 points, 8 rebounds, one assist, one steal, one block.
.
For more news: Elrisala ، For social communication, follow us on Facebook .
Source of photos and information: Elperiodico