Economy
Argentina's chainsaw-wielding newly elected president pledges economic 'shock therapy'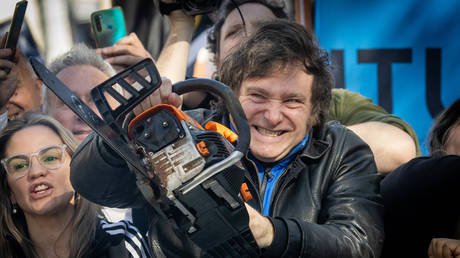 Argentina's president-elect, Javier Milei, has promised "shock therapy" to fix the country's beleaguered economy, which has been hit by one of the world's fastest inflation rates and a looming recession, Bloomberg reported on Monday.
Milei, who beat Economy Minister Sergio Massa in Sunday's runoff election, is pledging radical measures for the Argentine economy that will reportedly include shutting the central bank, ditching the peso for the US dollar and slashing public spending.
Argentina is faced with a debt of $44 billion due to be paid to international bondholders and the International Monetary Fund next year. To cover the arrears, the country will require "a big current account surplus amid a stabilization plan," according to Martin Castellano, head of Latin America research at the Institute of International Finance.
This puts Milei, a 53-year-old economist, former TV pundit, and one-time legislator without executive experience, in front of an "enormous" challenge at a time when state coffers are empty and inflation is nearing 150%.
Argentina's president-elect used to carry a chainsaw as a symbol of his planned cuts but has shelved it in recent weeks to help boost his moderate image.
"Milei's ambitious vision of a market-friendly, small-state, dollarized Argentina will finally be put to test. "He has yet to clarify on timing and process for dollarization — which, with negative reserves, doesn't seem feasible for the near term," said Bloomberg's Latin America economist Adriana Dupita.
.
For more news: Elrisala ، For social communication, follow us on Facebook .
Source of photos and information: RT