Russia
'Blood' and 'money' – Medvedev names essence of US security doctrine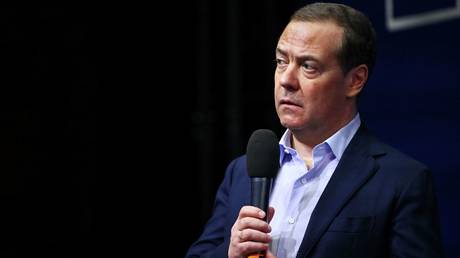 Former Russian President Dmitry Medvedev has said that US President Joe Biden's latest opinion piece for the Washington Post once again highlighted the essence of Washington's security doctrine, which is to provide for America's interests at the expense of others.
The US supposedly makes itself safer by pouring money into "its own military industry" and starting "wars on other continents," Medvedev said Sunday in a post on X (formerly Twitter), calling it "the essence of the American security doctrine."
"That's why our commitment to Ukraine today is an investment in our own security," Biden said in his piece published on Saturday. Medvedev, who now serves as deputy chairman of the Russian Security Council, responded to this by saying that the US essentially considers "money" and "blood" together as a "good investment." "How very American. No comment." he added.
"Others, surely, don't matter," the former Russian leader said, commenting on the article in which Biden once again reaffirmed US support to Ukraine and Israel. The US leader also discussed in the piece that Russia and the Gaza-based Hamas militants should not be allowed to have their way.
"Out of great tragedy and upheaval, enormous progress can come," Biden wrote. He claimed that the US is "the essential nation" with a "duty of leadership."
On the topic of Ukraine, the US president also admitted that the conflict "draws America directly." Washington has openly supported Kiev since armed hostilities with Moscow began in February 2022. The US has provided Ukraine with military equipment worth billions of dollars together with its allies in Europe and elsewhere.
.
For more news: Elrisala ، For social communication, follow us on Facebook .
Source of photos and information: RT