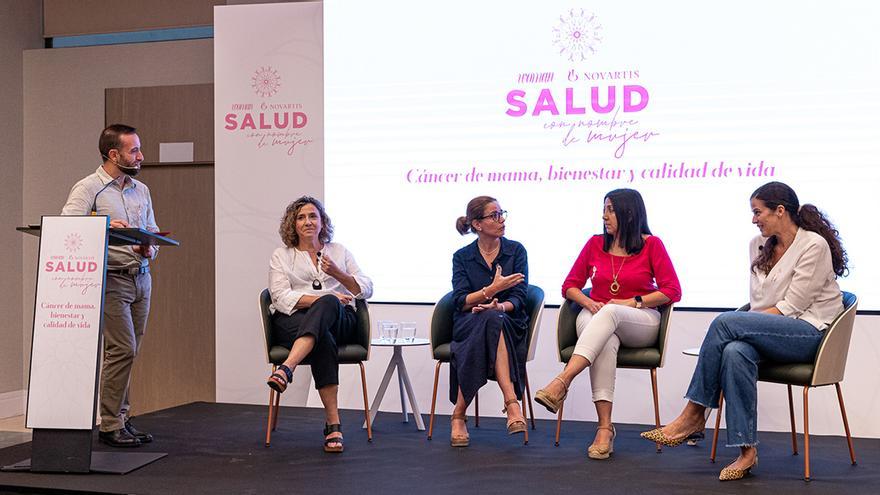 Breast cancer and quality of life
 
It is estimated that one in eight women in our country will be diagnosed with breast cancer during their lifetime. With these words, Alberto G. Reina started a panel of experts on breast cancer, in which they not only talk about the disease itself, but also about other aspects such as the quality of life of the patients or the unwanted (and often silenced) side effects suffered after hormonal treatments to which they have to undergo for years.
A comprehensive approach
After the presenter's intervention, Ángela Sánchez, managing director of the Spanish Association against Cancer in Barcelona, ​​welcomed the audience. And she did it by offering an appetizer of what those attending the event were going to find. "We are going to talk about the impact of the disease, but not only from the clinical aspect but also from the quality of life." Sánchez was talking about a 360 approach in which several pillars are fundamental: support (at a psychological, social or even physical level), raising awareness about healthy lifestyle habits and the importance of financing research projects.
Myriam Serrano, editor-in-chief of Woman, took the floor with a key message related to sisterhood and the need to take care of our self-esteem. Behind her, Esther Espinosa, director of communication and patient relations at Novartis, highlighted the importance of information about this disease, early diagnosis and research.
The panel of experts "Breast cancer, well-being and quality of life" had four exceptional protagonists: Dr. Sonia Pernas, head of the Breast Cancer Unit, Medical Oncology department, of the Catalan Institute of Oncology (ICO) , and member of the board of directors of SOLTI; Isabel Magallón, supervisor of the Ambulatory Oncology Area of ​​the Vall d'Hebron University Hospital; Teresa López-Fando, Mission Manager of the Spanish Association Against Cancer (AECC) in Barcelona; and Grindel Darwich Serra, patient.
Ángela Sánchez was referring to a 360 approach to the disease and thanks to the speakers it was possible to enjoy a total approach, discovering points of view both clinically and from the patients' perspective.
We must improve the quality of life of women who have overcome cancer and those who live with the disease for long years (Sonia Pernas)
Dr. Sonia Pernas made clear the need to care for patients in the long term: "We must improve the quality of life not only of women who have overcome breast cancer, but of the thousands of patients who live with the disease for long years." Regarding treatment, she pointed towards the individualization of each case. «It is important to adjust the treatment to each person because not all tumors behave the same. And, if necessary, we must de-escalate to avoid toxicities and unnecessary costs."
He also made reference to surprising data, such as that lung cancer is almost surpassing breast cancer mortality. Regarding the lines of work on research topics, Pernas was optimistic: «We know more and more about the biology of the tumor. Not only its size is important. I always tell my patients that each one is different. "It is crucial to see the pathway that the tumor uses to proliferate and thus direct appropriate treatment."
In first person
One of the main problems when moving forward and finding solutions is financing. Teresa López-Fando took the floor to speak from her experience. "Many researchers who apply for our grants from the Scientific Foundation demand that the Administration provide resources, but that these be stable and lasting over time."
We live in a society that has a longer life expectancy and this brings about cellular aging. «Every time we move to more opposite extremes. On the one hand, older patients due to this cellular aging that makes it more likely to develop the disease and, on the other, patients at very young ages," said the head of the ICO Breast Cancer Unit.
In addition to the experts, a patient also spoke who contributed the experience of the path traveled. Grindel Darwich was diagnosed with breast cancer three years ago, just before the pandemic. "I was diagnosed on March 6, on the 14th everything was closed due to COVID, and in addition to that I was 33 weeks pregnant." For her, beyond the pharmacological treatment, emotional care was key: "My coexistence with the disease changed when I discovered the psychological follow-up that I could obtain through the AECC." Patients who survive cancer are very aware of the possibilities of recurrence. "The fear never goes away, you think it is decreasing, but it accompanies you and goes hand in hand," Grindel confesses. The good news is that you can learn to manage.
Patients who overcome cancer are very aware of the possibilities of recurrence (Grindel Darwich)
The role of nurses is key in this support process, since patients must face hormonal treatments with very powerful effects for years. Isabel Magallón has claimed her role: «The nurse's vision is comprehensive. It must be treated on an emotional level, on a physical level, on a nutritional level, and on family support. "We must treat the disease as something global and, above all, humanize it."
There was also time to talk about side effects related to sexuality or to involve patients in making decisions about treatment options.
Related news
The guests ended their participation by making some wishes. Among them, more funds for research or starting to treat cancer from a global vision. Teresa López-Fando put the finishing touch: "We have achieved a lot, but the most important thing is that the patients feel accompanied and supported."
Were you unable to attend the debate live but are you interested in the topic? You can see it in full here. Hit play and don't miss a word!
.
For more news: Elrisala ، For social communication, follow us on Facebook .
Source of photos and information: Elperiodico