USA
Could the FBI's investigation send New York mayor Eric Adams to prison? | Eric Adams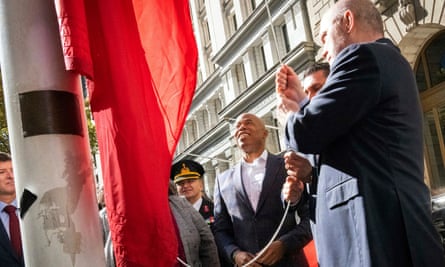 Could the FBI's investigation send New York mayor Eric Adams to prison? | Eric Adams  
On 2 November, FBI agents executed a predawn raid on the home of the New York City mayor's chief fundraiser, 25-year-old Brianna Suggs – seizing phones, an iPad and documents. Agents also reportedly searched the home of a Turkish Airlines executive and a Brooklyn construction company owned by Turkish immigrants that had fundraised for the mayor, Eric Adams.
Days later, agents approached Adams in the street as he was leaving a Manhattan fundraiser and asked his security guards to step aside. Then they got into an SUV with him and seized two iPhones and an iPad. They returned those devices after a few days.
The seizures were a dramatic escalation in a federal investigation surrounding the mayor of the largest city in the US. Federal authorities are investigating whether Adams' 2021 campaign conspired to illegally take money from the Turkish government in return for favors, including pressuring New York City's fire chief to fast-track the opening of a new Turkish consulate building in the city.
No one, Adams included, has so far been charged with or accused of any crime. Adams, a former police officer, has strenuously denied wrongdoing. "We don't do quid pro quo, we follow the law," he said at a press conference on Tuesday, his first public remarks acknowledging the investigation since it entered headlines. The city's chief counsel, Lisa Zornberg, sat next to Adams and frequently interjected after reporters' questions. "We've been fully cooperative. We are not going to impede an active investigation by providing more detail," she said. "There has been no indication that I've seen that the mayor is a target."
In an email, a spokesperson for Adams referred to Zornberg's comments and said the mayor's office was committed to cooperating with federal investigators, but declined to offer further details.
But legal experts say that the mayor could be in real trouble. "If a bribe is proven, the criminal consequences could be tremendous – years in prison," said Jacob Eisler, a professor of election law and anti-corruption at Florida State University.
At Tuesday's press conference, Adams confirmed that in 2021, while campaigning to be mayor, he had forwarded a request from the Turkish consulate to the then New York City fire commissioner, Daniel Nigro, to see if Nigro could "look into" an approval process for the Turkevi Center, the consulate's new high-rise building near the UN's headquarters in Midtown Manhattan. New York's fire department had been concerned about safety issues in the structure, but the delays in approval jeopardized the desire of the Turkish president, Recep Tayyip Erdoğan to unveil it in time for the UN general assembly that fall, the New York Times reported.
A temporary permit was issued shortly after, which allowed the unveiling to go ahead. The new tower was a symbol of Turkey's "growing power", the Turkish president said at the event.
Adams' connections to Turkey were well known even before the unveiling. While New York City's population of Turkish voters is small, Adams cultivated deep ties to them as Brooklyn borough president, the largely ceremonial post he held for eight years before becoming mayor. He has taken at least six trips to Turkey, at least one of them paid for by the Turkish government and Turkish Airlines, according to a disclosure filed with the city's conflicts of interest board. Adams told reporters last week that he had briefly met Erdoğan at an unspecified dinner event while serving as borough president. "I said hello, and that was the extent of our conversation," he said.
Adams has also received tens of thousands of dollars in donations from groups with links to Turkey, including $6,000 for his mayoral campaign from board members of the Turken Foundation, a non-profit with links to Erdoğan's children, according to the local non-profit news outlet the City. Another fundraiser for his campaign, organized by the Turkish immigrant owners of the Brooklyn-based KSK Construction company, raised close to $70,000 for the mayor's campaign.
New York City's campaign finance board repeatedly questioned Adams' campaign about the donations, but the campaign failed to respond, the City outlet reported. Adams' campaign also received $10,000 from the employees of Bay Atlantic University, a Washington DC-based school founded by a Turkish philanthropist, a week after the Turkevi tower's unveiling, though those donations were later refunded, according to the news outlet. (A campaign adviser to Adams, Evan Thies, did not respond to a Guardian request for comment.)
Those relationships are now under scrutiny as investigators seek to determine whether any of that money came from foreign sources – in violation of federal law – and whether it influenced Adams' actions as an official.
Adams claimed at the press conference that he wasn't aware of Erdoğan's expected visit when he reached out to the fire commissioner, which he described as a mundane act. "This is what we do as elected officials," he said. "I would be neglectful in my duties if a constituency reaches out to me and ask for assistance, and I'm not giving them that assistance and asking the agency to look into their inquiry."
Adams also rebutted the notion that he had received any donations from improperly disclosed sources. "We don't do the straw donors," he said.
Was there a 'quid pro quo'?
Under US law, federal investigators must establish to a court that probable cause exists for a crime before they can obtain a search warrant. Now that they have downloaded the contents of Adams' devices, they will be "pulling thread after thread" to search for more evidence, said Robert D'Amico, a retired FBI agent.
Authorities are investigating a number of possible federal crimes, including bribery. To establish that such bribery occurred, an investigator would need to show "quid pro quo", said Eisler, the law professor. A federal conviction for bribery carries a sentence of up to 15 years in prison.
But quid pro quo bribery can be difficult for prosecutors to prove, as it's rare for investigators to uncover clear written evidence of such agreements. Without such evidence, an official can argue – as Adams has – that the actions they took were ordinary and legal.
Randall Eliason, a law professor at the George Washington University and former assistant US attorney, said Eric Adams' explanation of his call to the fire commissioner could be laying the groundwork for a "McDonnell defense" – referring to the former Virginia governor Bob McDonnell, who beat a bribery conviction in 2016. McDonnell and his wife had been sentenced to prison after a jury found them guilty of accepting $175,000 in gifts from a nutrition supplement CEO, including ball gowns, vacations and a Ferrari ride, in exchange for promoting his products in meetings and phone calls with state officials and health researchers. But the US supreme court unanimously ruled to vacate McDonnell's conviction, writing that the while the governor's conduct was "distasteful", he had not performed any "official acts" that were consequential enough to fulfill the federal definition of bribery.
The fact that Adams was at the time still the Brooklyn borough president, a role without official power over the fire commissioner, could actually "strengthen Adams' hand", Eliason said. "He didn't really have the power to order this guy to do anything. That might bolster the claim that this wasn't an official act – he was just making inquiries on behalf of a constituent or someone who contacted him."
Did the Adams campaign hide foreign donations?
However, a lack of provable quid pro quo wouldn't be the end of Adams' legal concerns. For example, Adams or his staff could have potentially violated statutes that require officials to disclose their donations and their sources.
One such violation would be accepting straw donations, "where money is passed through an intermediary or a conduit in an effort to hide the true source of the donation", said Saurav Ghosh, the director of campaign finance reform at the non-profit Campaign Legal Center and a former attorney at the Federal Election Commission. "The most common motivation is that the true source of the money doesn't want to be seen giving money to a politician."
While straw donor violations by state and local candidates are usually handled by state and local authorities, not federal authorities, there's a key difference in Adams' case: the possibility that donations originated from Turkey. Taking donations from foreign entities is a crime that's strictly prohibited by one of the few federal campaign laws that also apply to state and local candidates. "I think that's about as serious of a violation as you can get," says Ghosh.
If it emerged that Eric Adams was in fact taking not only money but directions from a foreign government, he could be considered a "foreign agent" under US regulations; failing to declare such relationships is a federal crime carrying a punishment of up to 10 years in prison. While such cases are rare, they're not unheard of: the former US national security adviser Michael Flynn admitted in 2017 as part of a plea deal that he had worked as an unregistered foreign agent for the Turkish government, though he later withdrew his plea and was pardoned by Donald Trump.
The FBI's next possible moves
What happens now? It's likely that "there's still a lot of investigative work to do" for federal authorities, said Eliason. Charges aren't guaranteed, "but I'd definitely say it looks serious."
D'Amico, the retired FBI agent, said the agency's seizure of Adams' devices meant the investigation could continue to widen. "If you legally have the phones and a search warrant, and you come across something else, then you have the right to start pursuing that."
It's likely that the FBI will seek more search warrants, though it could take weeks or months, D'Amico said: "The more devices you take, the more information there is to sort through." The "most dramatic" step would be if investigators searched the mayor's office for physical evidence, though that wouldn't be a step the agency would take lightly, D'Amico said.
D'Amico predicted that the FBI would examine foreign surveillance for any evidence on Turkey's relationship with Adams. "You always have to look at that when someone travels over there. There's a possibility that they were looking to recruit him when he went over there." (The FBI did not return a request for comment. )
Investigators are likely to subpoena financial records to trace money back to its source, D'Amico said. "Then you can interview that person, say, 'Where did you get that money? Why did you decide on this amount?' You might get them in a lie, and then you can push them on, 'OK, now you're looking at a five-year felony for lying to a federal agent.'"
But even if investigators were to uncover evidence that Adams or his campaign staff acted improperly, it's not certain that they would face legal consequences.
Casey Michel, head of the Human Rights Foundation's combating kleptocracy program, pointed to a pattern of "investigative and prosecutorial failures in recent years, especially on the federal level, where juries and judges rule in favor of those engaged in this kind of unreported foreign lobbying.
"With Adams, there's so much smoke you could choke on it," Michel said. But "until we see any actual charges against him, he'll likely ride this out. And he'd hardly be the first US politician to escape any kind of fallout for participating in a network like this."
The real test could have to be at the ballot box, when Adams is expected to seek re-election in 2025. "If the government can't demonstrate a violation of the law, voters will have the ultimate say over if Adams' allegiances and conduct are problematic or not," said Eisler. "Even without a formal conviction, it is difficult to govern when one's integrity is suspect."
On Tuesday, Adams dismissed a journalist's question about whether he would resign if he were indicted. "I'm not gonna speculate on that. You're all the way downfield," he said. "I'm going to continue to do the job as the mayor, as long as it's my responsibility to do the job."
.
For more news: Elrisala ، For social communication, follow us on Facebook .
Source of photos and information: Theguardian