Arabic news
Disadvantages: Intensifying monitoring rounds to curb any artificial price increases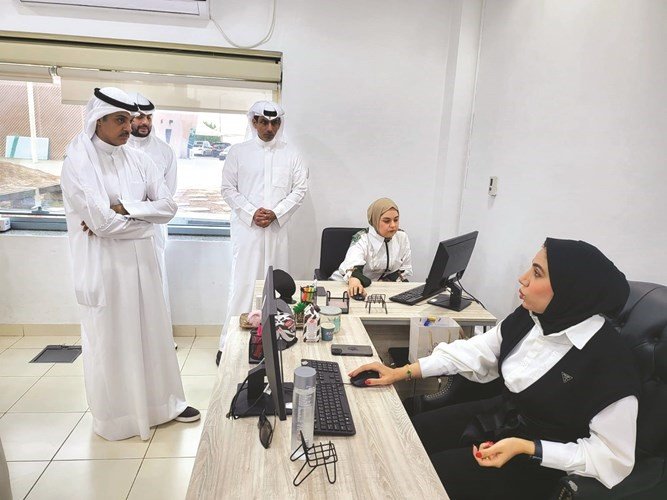 Disadvantages: Intensifying monitoring rounds to curb any artificial price increases
 
Gulf News
The Minister of Commerce and Industry and the Minister of State for Youth Affairs of Kuwait, Muhammad Al-Aiban, made an inspection tour of the Al-Siddiq Center for Commercial Control, accompanied by the Undersecretary of the Ministry of Commerce, Ziad Al-Najem, with the aim of examining the readiness and efficiency of the regulatory bodies and monitoring the markets. This measure comes within the framework of addressing any price increases that may occur as a result of the recent financial amendments, especially those related to retirees.
During the visit, Minister Al-Aiban interacted with the work branches of the center, where he listened to a detailed explanation about the daily plan of the various departments, including the follow-up and coordination department, the automated information center, the central operations room, and the control emergency team. Light was shed on the procedures for receiving complaints and reports, and how to deal with them, in addition to the mechanisms for inspecting and documenting violations.
At the conclusion of the visit, Al-Aiban expressed his appreciation for the procedures followed and stressed the need to make more efforts. He called on employees and commercial control inspectors to intensify inspection tours, stressing the importance of their role as primary protection for consumers. He stressed that they bear a great responsibility towards society, stressing the need not to back down from imposing the maximum penalties on violators and those who seek to benefit from price increases to raise the costs of goods.
For more: Follow Khaleejoon News. For social media, follow us on Gulf people
.
For more news: Elrisala ، For social communication, follow us on Facebook .
Source of photos and information: khaligyoun