USA
Family still wait for return of migrant worker's body after unexplained death on UK-US military base | US military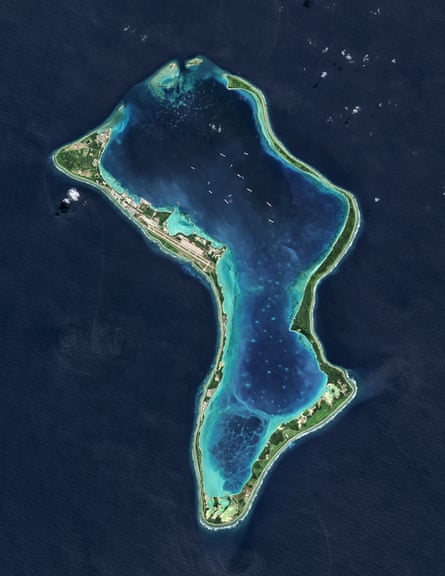 Family still wait for return of migrant worker's body after unexplained death on UK-US military base | US military  
A major US defence contractor has failed to repatriate the body of a migrant worker who died under unexplained circumstances on the British-owned island of Diego Garcia more than a month ago, the Observer has learned.
Saddam Ali died after a short illness on 18 October, on the secretive joint UK-US military base on the remote British overseas territory in the Indian Ocean. His family allege that KBR – Ali's employer – failed to get the 33-year-old Indian sufficient medical assistance, keeping him on the base, which does not have a hospital-grade facility.
More than 1,000 migrant workers are contracted to work for KBR – a key Pentagon contractor that helped build Guantánamo Bay in Cuba – on the military base, which the UK has leased to the US since the 1960s.
Strategically located, the atoll of Diego Garcia is crucial for US interests, lying within range of east Africa, the Middle East and Asia. However, the treatment of migrant workers on its vast military base has becoming a source of increasing concern.
"It was KBR's responsibility to evacuate Saddam for better treatment. They should have taken prompt action to evacuate him," said Dr Junaidul Hasan, his cousin. "They are not providing any information about why they did not."
In a statement to the Observer, KBR said: "Saddam reported ill to us Monday, 16 October and we transferred him to the naval doctors and called a medevac [medical evacuation] for him that same day."
However, Hasan and three KBR workers claim Ali's body remains on Diego Garcia, part of the Chagos Islands archipelago. "They informed us they would arrange [a medevac] but it was never arranged," said Hasan.
Ali, who had no underlying health conditions, became sick with a fever and died of a heart attack, KBR told the family. They have not been provided with any further details about what caused his death. Last night the defence contractor said Ali "passed before it [the medevac] could arrive."
Questions over the potential mishandling of Ali's medical care comes amid allegations that KBR is "mistreating" its migrant workforce on the base. Ordered by a senior Royal Navy officer, the inquiry was launched after UK officials suspected KBR of recruiting undocumented workers for the military base.
Last November, KBR flew three Filipino men, aged 36, 40 and 49, to the tiny British territory from Dubai, where they were believed to be working illegally on tourist visas, according to two KBR employees.
In a statement, a spokesperson for the Foreign, Commonwealth and Development Office (FCDO) said: "The UK government and the British Indian Ocean Territory [BIOT] administration take any allegations of forced labour or human trafficking extremely seriously."
The FCDO spokesperson said its investigation concluded the men entered Diego Garcia legally but requested the Observer to withhold the names of the UK officers involved in the investigation. The three Filipinos are still working on the base, it is understood.
KBR, a former subsidiary of controversial oil services giant Halliburton, which was run for five years by Dick Cheney before he became US vice-president, refuted allegations that it recruited undocumented workers and denied the FCDO investigation took place.
"In late 2022, three employees who were properly documented arrived on the island without having taken their paperwork with them," said the spokesperson. "The BIOT asked us to look into this, specifically understanding at the time that the three employees may have simply forgotten their paperwork."
However, Dr Maruja Asis, director of the Scalabrini Migration Center, in Manila, Philippines, said: "For these workers being hired in Dubai and then moving on to Diego Garcia, it is very possible that they may be rendered very vulnerable. The protections that the Philippine government can extend to them can be very limited."
KBR, also known as Kellogg Brown & Root, is the main contractor on the military base, located in the Chagos Islands. The Chagos Islanders were forcefully removed to make way for the Diego Garcia base and have spent the past five decades in exile in Mauritius, Seychelles and the UK.
KBR has held the military base's main operating support services contract since 2017, providing services including facilities management and IT. The Observer has interviewed 14 current and former KBR employees on Diego Garcia and reviewed documents such as payslips, work contracts, photographs, KBR presentation slides and communications.
All the interviewees requested anonymity. They allege a culture of fear on the base, with managers telling staff there is a zero-tolerance policy for workers who speak out.
"KBR is always making us scared about this, and we need work to provide for our families," said Maggie*. "They always say they can terminate our jobs."
KBR recruited the workers after experiencing short staffing issues when the Philippines government blocked Filipinos from travelling to Diego Garcia to work for KBR unless they could show they would be earning more than the US minimum wage.
In October 2021, the Philippine government demanded that companies on Diego Garcia pay their Filipino workers the US federal minimum wage of $7.25 (£5.98) an hour. Other contractors on the base complied with this request, but KBR did not, triggering tensions with its employees and the government.
Regular warnings are issued by the Philippines government against unlicensed recruiters hiring its citizens, stating they risk falling victim to human trafficking schemes and "unfair labour conditions".
"KBR is trying to avoid hiring Filipinos from the Philippines because they'd have to pay the minimum wage. If these workers don't have the proper documentation, that's human trafficking," said John*, a former KBR employee who resigned earlier this year.
Because the Philippine government is blocking workers from travelling to Diego Garcia, workers can't travel home for vacations and say they are being forced to choose between their job and seeing their children.
"We're tired and exhausted," said Maggie, a mother who has not seen her young children for more than four years because of the pay dispute. "What KBR is doing to us is inhuman."
To remedy the staffing issues, the British government recently approved hiring limited numbers of Indian and Kenyan workers. However, three Indian workers claim they have been misled over the salaries they would be paid, alleging they were hired in mid-2022 on an $800 a month package, which was then cut to around $500 a month when their annual contracts were renewed this year.
"The HR manager said if you want to work, the salary is $500; if you don't want to work, go back. Many people resigned," said Rohan*, an Indian worker in his 20s.
A small group of Mauritian employees also claim their compensation packages were recently slashed by almost half, with one worker alleging that KBR stated it was deducting a $300 per month meal allowance from them.
This meal allowance was written into job offer letters as part of the salary compensation package offered to workers, according to documents seen by the Observer.
"We have since invested in culturally appropriate food for non-Filipino employees. Accordingly, when these employees' contracts expire, we explain that new contracts would provide free meals instead of the food stipends if they want to continue working on the island," the KBR spokesperson said.
"KBR pays its employees on Diego Garcia lawful compensation and provides good and safe working conditions. Our Filipino employees choose to work for us because of this," the spokesperson added.
Workers claim the British and US forces on the base are aware of the pay situation with KBR.
Asis added: "The UK and US governments should take action. The frontline face of these military bases are British and American, but behind that is an army of workers coming from developing countries who are doing a lot of work, but whose responsibility are they?"
KBR has held meetings with its Filipino employees over the situation with one meeting slide showing that the company claims the Philippine government is "using a misplaced concept that Diego Garcia is a US territory", and that "paying the US minimum wage would represent a 235% salary increase".
KBR's spokesperson told the Observer that the total compensation given to the Filipino workforce exceeds the Philippine government's mandated hourly rate "when housing, food, medical coverage, and other benefits are included".
* Names have been changed to protect their identities.
.
For more news: Elrisala ، For social communication, follow us on Facebook .
Source of photos and information: Theguardian