Sports
France achieves a historic victory against a weak Gibraltar (14-0)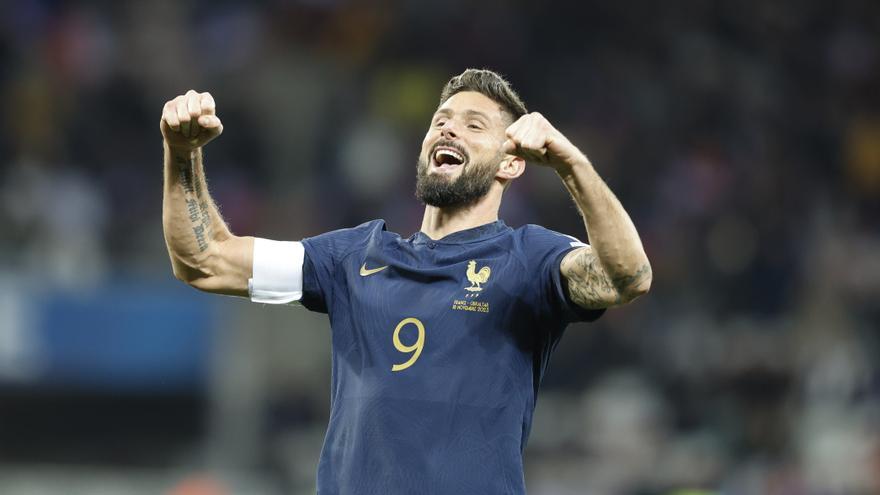 France achieves a historic victory against a weak Gibraltar (14-0)
 
by: Hani Kamal El-Din
France he had a real feast and took advantage of the fragility and weakness of Gibraltar, who played with one less player from the 18th minute, to sign a scandalous (14-0) and historic win, accompanied by several records, such as that of the biggest result in history of the qualifying matches for a European Championship or a World Cup.
The French team, which secured first place and being seeded in the draw for the final phase of the Euro Cup, broke his goal record (the previous one was a 10-0 against Azerbaijan in 1995), He also surpassed the mark for most goals in a European Championship qualification (the 0-13 Germany to San Marino in 2006) and the number of goals scored in the first half (seven, the previous mark was six in three games).
Precocity mark
Furthermore, the debutant Warran Zaire-Emery, who scored the third 'bleu' goal, a quarter of an hour later, converted with 17 years, 8 months and 10 days He became the youngest scorer to score in an official match with the France shirt.
𝗨𝗺 𝗲 !
Plus large victory of the Blues, 14-0 🔥#FRAGIB | #FiersdetreBleus pic.twitter.com/1V9z6STgev

— Equipe de France ⭐⭐ (@equipedefrance) November 18, 2023
As I had announced, Deschamps He started with a 4-2-3-1, with the very young attacker from Paris Saint Germain who accompanied Rabiot in the center of the field; while above Coman, Griezmann and Mbappé They supported Thuram in search of the goal.
And the goals didn't take long to arrive, with two goals in just one minute. First was Saints (m.3) in an unfortunate rebound from an own goal, and then eat He took advantage of a poor clearance by Coeling for only one minute.
In a flash, France had made the defensive deployment of the modest Gibraltarians, with the ten field players in two lines very close together in front of their goalkeeper.
Direct red
The game ended in the 16th minute, when the debutant Warran Zaïre-Emery scored the third and the defender who hit him in the shot, Santos, was sent off with a straight red card. The PSG youngster was injured and had to be replaced.
𝙄𝙉𝘾𝙍𝙊𝙔𝘼𝘽𝙇𝙀!!! 🔥
Warren Zaïre-Emery inscribed son 1er but en Bleu pour sa 1ère sélection !

3-0 | #FRAGIB | #FiersdetreBleus pic.twitter.com/Xw472qUR5f

— Equipe de France ⭐⭐ (@equipedefrance) November 18, 2023
From there, France's goals came almost naturally, given the enormous difference in quality of the French, helped by their numerical superiority.
Mbappé from a penalty, Clauss with a shot from outside the area and Coman and Fofana after elaborate plays left the score at 7-0 at half-time, which could have been more if the French had been more successful in their finishing.
Deschamps, without mercy
France came out in the second half ready to break their record. Deschamps declared on French television in the intermission that the best way to respect the opponent was to try to score as many goals as possible and his men strictly carried out his instructions.
But during the first third of the second half the French mistake and some worthy saves from the goalkeeper Coleing -especially a one-on-one against Griezmann- stopped the "bleus".
Rabiot premiered the score of the second act (m.63) and eat He continued right after (m.65) after a wall with Mbappé. France seemed to be in training against a youth team and was playing to their liking.
Dembélé, the 10th
The goals continued to arrive without much effort. Dembele equaled the French record in the 73rd minute and Mbappe he surpassed it just a minute later.
Olivier Giroudwhich had left Marcus Thuramwanted to join the party, but his goal in the 78th minute was disallowed due to a very summary offside.
𝟏𝟎-𝟎, 𝐫𝐞𝐜𝐨𝐫𝐝 𝐞́𝐠𝐚𝐥𝐞́ !
Dembélé, sa frappe termina petit filet! ⚡

10-0 | #FRAGIB | #FiersdetreBleus pic.twitter.com/YyRhPqW6TP

— Equipe de France ⭐⭐ (@equipedefrance) November 18, 2023
Mbappé scored the dozen (and his third private) with a spectacular shot very far away who overtook an advanced Coleing.
AND Giroud he made up for it by scoring the two that completed the count in just two minutes; the last one with a bicycle kick in the small area, to close a French festival that makes one wonder if this type of match makes sense.
Data sheet:
14 – France: Maignan; Clauss, Upamecano (Saliba, m.81), Todibo, T. Hernandez; Rabiot (Kamara, m.67), Zaïre-Emery (Fofana, m.20); Coman (Dembelé, m.66), Griezmann, Mbappé; and Marcos Thuram (Giroud, d.67).
Related news
0 – Gibraltar: Coleing; Sergeant, R. Chipolina, Mouelhi, Santos; J. Chipolina (Olivero, m.61), Pozo, De Haro; De Barr (Coombes, m.81), Walker (Jolley, m.61) and Casciaro.
Goals: 1-0, m.3: Saints, own goal; 2-0, m.4: Marcus Thuram; 3-0, m.16: Zaïre-Emery; 4-0, m.30: Mbappé, penalty; 5-0, m.34: Clauss; 6-0, m.36: Coman; 7-0, m.37: Fofana; 8-0, m.63: Rabiot; 9-0, m.65: K. Coman; 10-0, m.73: Dembele; 11-0, m.74: Mbappé; 12-0, m.82: Mbappé; 13-0, m.89: Giroud; 14-0, m.91: Giroud.
.
For more news: Elrisala ، For social communication, follow us on Facebook .
Source of photos and information: Elperiodico