Russia
Kiev in 'big trouble' as Western munitions flow dry up – ABC News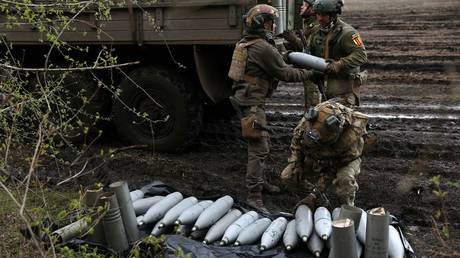 The flow of US-made artillery ammunition to Ukraine has dwindled by "more than 30%" amid Washington's scramble to assist Israel in its fight against Hamas, ABC News reported on Tuesday, citing an unnamed Ukrainian official.
The network's source pointed out that the main problem was with deliveries of NATO-standard 155mm artillery shells, which he said accounted for "about 60-70% of Ukraine's overall supply."
He also expressed serious concern that the gridlock in the US Congress could mean that the flow of arms to Ukraine will start to dry up. "We're in big trouble… basic munitions are not coming," the official said, warning that if the situation is allowed to deteriorate further, Ukraine risks losing its position on the battlefield "at a very high price."
The Ukrainian official went on to complain that while US officials "were telling us [the Hamas-Israel conflict] wouldn't influence the commitments," their assurances turned out to be false.
Speaking to ABC, however, a senior unnamed US official rejected the notion that it was the Middle East crisis that had forced Washington to scale back its aid to Kiev. The development, he insisted, has "absolutely nothing to do with what's happening in Gaza," explaining that the presidential drawdown authority packages meant for Ukraine "start to get put together weeks in advance, so there is no link" between the two conflicts.
According to the report, the Ukrainian official's remarks came ahead of a surprise visit by US Defense Secretary Lloyd Austin to Kiev on Monday to reaffirm his "steadfast support" for Ukraine. During his trip, the Pentagon announced a new $100 million assistance package, which includes artillery shells of various calibers.
.
For more news: Elrisala ، For social communication, follow us on Facebook .
Source of photos and information: RT