Russia
Moscow gives update on evacuation of Russians from Gaza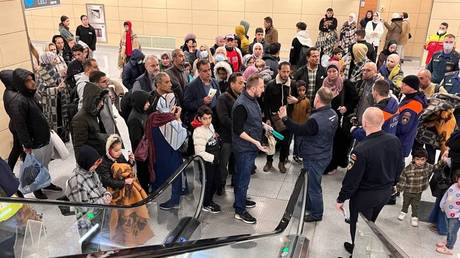 A large group of Russian citizens and their Palestinian family members arrived in Moscow from Cairo on a special Emergencies Ministry flight on Sunday, the Russian Foreign Ministry said in a statement. A group of 120 had previously been evacuated from Gaza amid the ongoing conflict between Israel and the Hamas militant group.
The evacuees were met at the Domodedovo airport by the Foreign Ministry officials who assisted them with all the necessary paperwork required to facilitate their stay in Russia, the statement added.
Russia has been actively evacuating its citizens from the Palestinian enclave over the course of the week. Last Sunday, the first group traveled from Gaza to Cairo through the Rafah Border Crossing into Egypt, which still remains the only way out of the besieged 17-square-mile strip of land.
As many as 558 Russian nationals and their families have been evacuated from Gaza so far. The Russian Emergencies Ministry has already flown 408 of them from Cairo to Moscow, according to the statement. A total of 900 people requested assistance from the Russian authorities in getting out of Gaza.
Various Russian agencies have been providing the evacuees with medical and psychological assistance as they have been crossing into the Egyptian side, as well as offering them food and water, the Emergencies Ministry said last Sunday.
According to the Foreign Ministry, the situation at Rafah Crossing Point linking Gaza and Egypt remains "difficult." Foreign nationals are being evacuated in a "step-wise manner," the Russian diplomats said, citing "continued hostilities" as well as the border crossing's "limited capacity."
Russia is taking "all necessary measures," the ministry added, to facilitate the speedy evacuation of its citizens from Gaza through the coordinated work of its crisis centers and diplomatic missions in Cairo, Tel Aviv, the West Bank city of Ramallah – seat of the Palestinian Administration – and the capital of Qatar, Doha.
.
For more news: Elrisala ، For social communication, follow us on Facebook .
Source of photos and information: RT