Russia
Protesters in EU nation blocking aid to Kiev – Ukrainian official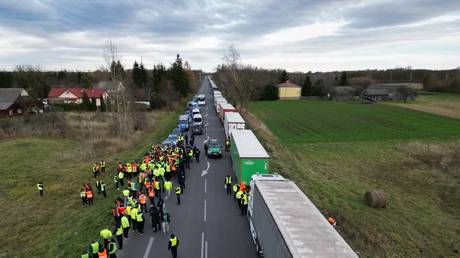 Polish truckers demanding tougher rules for their Ukrainian competitors have blocked more than 1,000 cargo vehicles at the border, including those carrying humanitarian aid for the embattled nation, Kiev's deputy minister for infrastructure says.
Writing on Facebook on Sunday, Sergey Derkach said he and his team had visited the border area where 1,200 trucks are stuck at the Krakivets-Korchova checkpoint, with another 500 at Grebenne, both not far from Lviv. He also noted that Ukrainian authorities had delivered food, water and medicine supplies for drivers there.
According to Derkach, the situation "is no less critical" at the Dorogusk checkpoint in the northern section of the border, where more than 1,200 trucks are queuing, with supplies due to arrive there soon as well.
The deputy minister criticized the protesters for not allowing trucks carrying humanitarian aid to enter Ukraine. "We have recorded numerous instances of fuel tankers and humanitarian trucks standing in queues," he said, adding that Ukrainian officials had been in contact with their Polish counterparts to resolve the issue.
Derkach also said the two checkpoints that he had personally visited were being blocked by no more than 15 protesters. "In fact, a dozen people are holding the border hostage," he said, adding that the arrival of the Ukrainian delegation had helped to ease the congestion.
The protest, which has been going on for at least two weeks, stems from the EU's decision to exempt Ukrainian truckers from seeking permits to cross the Polish border after the start of hostilities between Moscow and Kiev. Polish hauliers insist that the waiver has hurt their business by encouraging Ukrainian competition and driving down prices.
.
For more news: Elrisala ، For social communication, follow us on Facebook .
Source of photos and information: RT