Russia
Putin's former election rival dies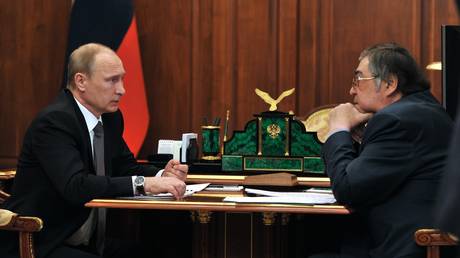 Aman Tuleev, a former governor of coal-rich Kemerovo Region, has died aged 79. His passing was announced today by his gubernatorial successor, Sergey Tsivelev.
Born in Soviet Turkmenistan, Tuleev grew up in Kemerovo Region, also known as Kuzbass, where his stepfather brought the family in 1951. In the early 1990s, he simultaneously headed the legislative and executive branches of power in the region.
Tuleev's support for an attempted coup against Soviet leader Mikhail Gorbachev in August 1991 made him a target for Moscow and cost him the governorship. During the 1993 constitutional crisis that pitted President Boris Yeltsin against the parliament, Tuleev was on the side of the rulers, against whom the president deployed tanks.
In 1997, amid a threat of mass protests by the region's miners, Yeltsin appointed Tuleev as acting governor. His mandate was confirmed the same year in the first-ever gubernatorial election, in which he won over 90% of the votes.
After Yeltsin's surprise resignation on New Year's Eve, 1999, Tuleev ran for president. His rivals for the role included his Communist ally, Gennady Zyuganov, and Yeltsin's preferred successor, Vladimir Putin. Tuleev won over 51% of the vote in his own area, but less than 3% nationwide.
.
For more news: Elrisala ، For social communication, follow us on Facebook .
Source of photos and information: RT