Technology
Roborock S7 Max Ultra, advanced cleaning with a high-efficiency robot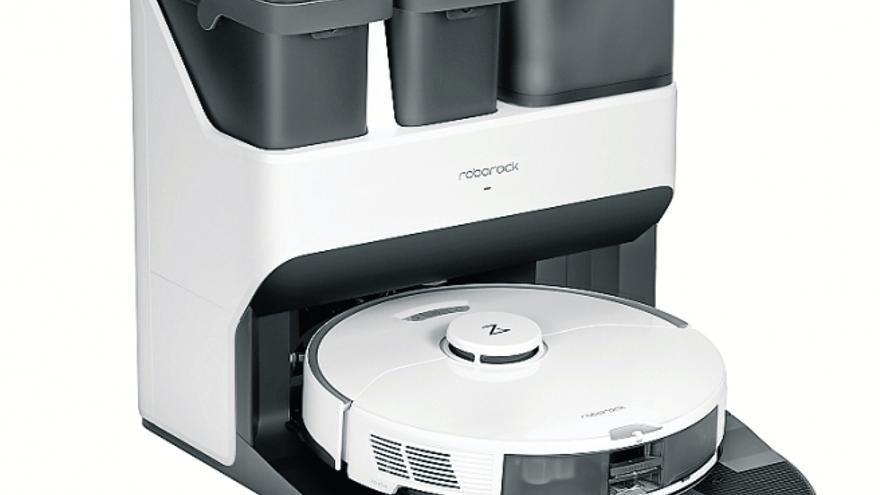 Roborock S7 Max Ultra, advanced cleaning with a high-efficiency robot
 
by: Mai Kamal El-Din
The cleaning robots They no longer need an introduction in our market, as they have entered on an excellent footing, becoming an essential piece of equipment in the home. The brand Roborock It has been configured, together with them, as a piece that well combines efficiency, product design, competitive prices and innovation. All this is well represented in the product that concerns us today: the S7 Max Ultra, which with notable innovations in its structure and operation, is characterized by integrating a new set of intelligent features.
Team portrait
Roborock's S7 Max Ultra is positioned among the brand's most advanced models. It has the all-in-one RockDock Ultra base, which allows you to empty the dust container, refill the water container and even wash and dry the mop, all completely autonomously.
Its features include the now famous scrubbing system VibraRise, capable of maximizing floor cleaning through microvibrations and detecting carpets to raise the mop when passing over them. Its suction power reaches 5500 Pa, one of the highest in the entire industry.
It also includes device control through app with compatibility for Amazon Alexa and Google Assistant, selection of prohibited areas, and personalized cleaning routines, among other features.
Differentials
The robot is compatible with the advanced Emptying, Washing and Filling Base developed by the firm and allows the necessary manual maintenance to be minimized. The mop and the base itself integrate a self-cleaning system, keeping the entire system in good condition. Likewise, the automatic filling function of the water tank allows you to vacuum and mop up to 300m2, 50% more than its predecessors, while the dust bag can store, completely sealed, dirt for about 7 weeks.
At the service of the home
The robot features a combination of RGB camera, structured 3D light and an entirely new neural processing unit, to recognize objects in its path and adapt to clean around them, regardless of lighting conditions. It recognizes and locates furniture in the app, allowing you to start a quick clean around tables or sofas by tapping an icon in the app. It even identifies rooms and floor materials, and recommends ideal cleaning patterns such as sequence, suction power, and scrubbing intensity.
New technological generation
Sonic cleaning scrubs the floor with high intensity to remove dirt; while the mop is capable of making a smooth transition on different surfaces, for example, it lifts automatically in the presence of carpets.
It has a synchronized system, which autonomously performs an automatic filling of the tanks, automatic washing of its mop and self-drying of both the mop itself and the docking base. In this sense, manual user intervention is minimized, facilitating its use and accessibility.
It has a vacuum power of 5,500 Pa to clean any dirt and, in addition, a VibraRise vibration scrubbing system. It integrates a floating brush that remains closed on uneven floors, allowing it to trap dirt even on surfaces such as carpets, for example.
Brushes
The central rubber brush has anti-tangle technology, and its floating mechanism allows it to adapt to uneven surfaces, such as carpets. It also has a self-raising mop that rises when the device detects fabric and automatically switches from mopping to vacuuming. Allows you to activate the "Do not disturb" mode so that it does not start cleaning or play messages during the night.
Utilities Summary
It clearly improves the performance of the previous models in the series, and incorporates important new features for satisfactory house cleaning.
The improved suction system provides up to 5500 Pa of power, which means it can pick up almost all dirt and dust, even the smallest particles.
It integrates an efficient 3D vision system that avoids obstacles, thanks to updated algorithms to identify and avoid objects that appear during work. Automatically detects where it is easy to get stuck and recommends setting no-go zones.
It can measure the distance of an object from itself through sensors, avoiding possible dangers. Plan cleaning routes to get through the home as accurately as possible, even in the dark. It automatically identifies the different floors in the house and allows you to clean up to four floors.
It is useful that it can be configured with a personalized cleaning schedule and for specific areas of different spaces on a regular or optional basis.
The VibraRise scrubbing system is stable and works at a speed of 3000 strokes per minute and allows you to experience the power of sonic technology, which scrubs with a constant scrubbing pressure of more than 6N and leaves the floor in excellent condition, as indicated. has been able to demonstrate in the tests carried out on the team. It effectively breaks down tough stains and the mop is raised by 5mm to prevent secondary contamination.
An advantage is that it can be charged during off-peak hours, to save on electricity costs.
The emptying station adopts the latest emptying method, with a dust bag that can be cleaned once every seven weeks at most. The robot vacuum cleaner is also equipped with a 3L independent water tank and a 2.5L dirt tank, which automatically replenishes water to the water tank before cleaning.
The newly upgraded drying function can dry the wastewater tank while drying the mop.
Technical aspects
Suction power: 5500 Pascals (Pa)
Dimensions: 35 x 35 x 9.65 cm
Autonomy: 180 minutes
Noise level: 67 dB
Power levels: Variable
Navigation: LiDAR + dual camera
Mopping function: Yes
App and voice control: Yes
Recharge and return: Yes
Interactive maps: Yes
Auto-emptying and auto-filling: Yes
Assessment
This robot is capable of removing dry stains thanks to its system of combining scrubbing with the pressure exerted on the floor (VibraRise).
Excellent performance of the mop that can be raised automatically, allowing, among other things, to mop and vacuum at the same time or to mop and vacuum separately. You can also, for example, vacuum first and mop later thanks to this system. The option to raise the mop also has an added effect; Do not wet porous surfaces or surfaces that should not be wet.
Add smart functions to establish personalized cleaning routines based on the needs of the home, or create prohibited zones. Another interesting point is that the device has seen its charging time reduced and offers an autonomy of 180 minutes.
Related news
Other very interesting functions are the Reactive Tech technology, an intelligence system that avoids obstacles on the route.
Price
The usual price of this product is €1,199, but During the Black Friday period there will be a discount of €350with a final price of €849.
.
For more news: Elrisala ، For social communication, follow us on Facebook .
Source of photos and information: elperiodico