USA
The pressure on Netanyahu is starting to tell – this potential truce shows something has changed | Simon Tisdall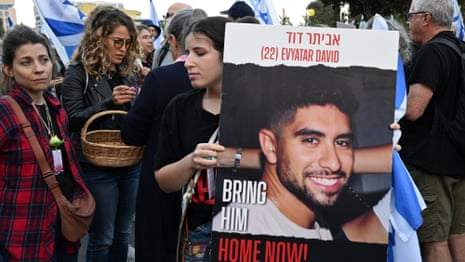 The pressure on Netanyahu is starting to tell – this potential truce shows something has changed | Simon Tisdall  
A deal with Hamas to release some of the Israeli hostages seized on 7 October in return for a pause in the fighting in Gaza, if confirmed, would reflect a change of course by Israel's prime minister, Benjamin Netanyahu, who has adopted an uncompromising stance since the start of Israel's worst security crisis in 50 years.
It would probably be wrong to suggest the deal, as currently configured, represents a softening of Netanyahu's position. He has been adamant from the beginning that Israel's overriding aim must be to eliminate Hamas as a military and political force in Gaza. He appears wedded to that approach, on whose success his own political future hinges.
But Netanyahu and his war cabinet, which includes the hardline defence minister Yoav Gallant, have come under intense pressure to do more from the families of the hostages, who staged a huge, five-day march to Jerusalem last week. Some relatives accuse Netanyahu of treating their loved ones as a secondary issue.
Israeli commentators attribute the apparent change of heart at the top to this effective lobbying by relatives, but also to a belated realisation that the Israel Defense Forces (IDF) and the security establishment have a duty to Israel's citizens that goes beyond the destruction of Hamas.
There has been a change on the Israeli side, wrote Haaretz columnist Amos Harel. "It seems to stem mainly from a realisation by Gallant and IDF chief of staff Herzl Halevi that it's impossible to focus solely on the military offensive in northern Gaza.
"The defence establishment, being responsible for the terrible failure that enabled the 7 October massacre, must start rectifying it. And the rectification doesn't end with conquering territory and killing terrorists. First and foremost, it involves an effort to bring at least the mothers and children among the hostages back home."
The war cabinet has reportedly been split on the issue for weeks, with hardliners, including Netanyahu, convinced that relentless military pressure was the best way to weaken Hamas and convince its leader in Gaza, Yahya Sinwar, to free the captives. Others argue Israel must get what it can now, however unsatisfactory, before international pressure to back off in Gaza becomes irresistible.
Netanyahu's shift may have been critically influenced by his personal encounter with hostage families, after weeks during which he refused to meet them. Netanyahu and his Likud party have lost the trust and confidence of most voters, who blame them for 7 October lapses and complacency. Polls suggest they would lose an election if one were held now. As ever, calculation is mixed with compassion.
If the hostage deal sticks, it will reportedly include the release of between 50 and 100 women and children in return for the freeing of up to 300 Palestinian women and children held in Israeli detention since before the war. A total of about 240 Israelis are believed to be held hostage at present. No releases of military personnel or adult males are being considered.
The proposed deal also includes a five-day truce that would involve a ceasefire on the ground and limits to Israeli air operations in southern Gaza. During this time, it is assumed, unrestricted aid deliveries would resume via the Rafah crossing with Egypt. Whether other entry points into Gaza would be opened is unclear.
While welcoming any sign of movement on hostages, opposition politicians in Israel may try to represent Netanyahu's shifting stance as a further indication that his judgment is flawed and that he should be replaced as prime minister. Yair Lapid, the main opposition leader, is already demanding Netanyahu stands down.
A deal and an accompanying ceasefire do not mean the war is over or that the hostage crisis has been resolved. It could, in theory, recommence with increased fury after both sides have had time to regroup. But it will encourage mediators, principally the Qatari government, and interested parties such as the Biden administration, to work for a more permanent halt to the fighting.
Pressure on Netanyahu and Israel's war cabinet from the US has been growing steadily in recent weeks as President Joe Biden has faced growing disquiet among Democratic party supporters, and the US public in general, about the civilian toll in Gaza. The Hamas-run health authority says more than 13,000 Palestinians have died there since Israel's intervention. About 1,200 people, mostly Israeli civilians, died in the Hamas attacks on 7 October. A recent poll showed most Americans favour a ceasefire.
A hostage deal would enable Biden to claim that his behind-the-scenes influence with Israel's leadership, to whom he pledged unstinting support on a visit to Tel Aviv last month, is proving effective. It could defuse sharp criticism of US policy from countries of the global south and mitigate divisions with European allies such as France, which has called for a ceasefire.
Hamas has been helped by the sheer weight of international condemnation of Israel's assault on Gaza, especially within the Arab and Muslim spheres. Russia and China are among leading countries that have refused to criticise Hamas. Last week's compromise UN security council resolution failed to include language condemning the 7 October attacks.
The impact a deal would have on the stance and future conduct of the Hamas leadership is uncertain. Sinwar, who commands Hamas forces in Gaza, is a mercurial, radical figure. Some Israeli assessments suggest he is not an entirely rational actor. At one point earlier this month he suddenly broke off hostage negotiations, only to resume contacts a few days later.
Sinwar will certainly present a deal, especially if it involves a truce, as a tactical victory and as some kind of twisted justification for the horror, misery and suffering his unprecedented attack on Israel has brought down on the heads of Gaza's people.
He will probably claim to a watching Arab world and his ally, Iran, that despite the enormous disparity in military forces, his defiance has forced concessions from the Israeli side. Just as importantly for him, a deal would demonstrate that Hamas has survived Israel's initial onslaught, still has teeth, as shown by continuing missile attacks on Israeli territory, and will live to fight another day.
But Sinwar does not have sole, final say over what happens next. The exiled Hamas political leadership based in Qatar, directed by Ismail Haniyeh, has been negotiating the hostage deal, and their view of any agreement, and the next steps, will not necessarily coincide with that of the fighters on the ground.
In other words, internal splits and differences within Hamas, mirroring those within Israel, could yet torpedo hostage releases and derail future moves towards a more lasting peace.
.
For more news: Elrisala ، For social communication, follow us on Facebook .
Source of photos and information: Theguardian