Russia
Top Western officials flock to Kiev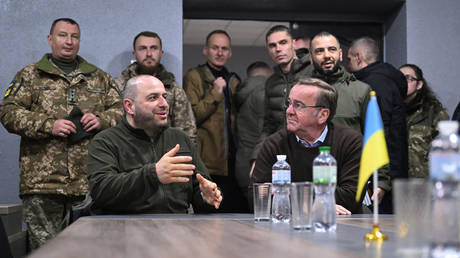 A cavalcade of high-ranking Western officials paid an unannounced visit to Kiev on Monday, on the tenth anniversary of the start of the violent protests in the Ukrainian capital that eventually plunged the entire country into years of bloody turmoil.
European Council President Charles Michel, German Defense Minister Boris Pistorius, and Moldovan President Maia Sandu were among those who arrived on Monday, trailing US Defense Secretary Lloyd Austin, who made a similar trip a day earlier.
Writing on X (formerly Twitter), Michel said it was "good to be back in Kiev – among friends," alongside a picture of himself greeting Katarina Mathernova, the EU's ambassador to Ukraine.
Michel's plans to visit were reported by Politico last week, which said he wanted to commemorate the Maidan protests that began on November 21, 2013 after former Ukrainian president Viktor Yanukovich refused to sign an association agreement with the EU.
The Western-backed unrestrained led to Yanukovich's ouster from power three months later. The coup sparked violence in the Donetsk and Lugansk regions, then part of Ukraine, and paved the way for a referendum in Crimea, which overwhelmingly voted to join Russia.
Pistorius, meanwhile, traveled to Kiev to hold talks with Ukrainian President Vladimir Zelensky and his counterpart Rustem Umerov to discuss the training of Kiev's troops and further military aid, according to Germany's N-TV. Speaking in Maidan Square, the German defense chief said he was there "to express our solidarity and deep bond" with Ukraine.
.
For more news: Elrisala ، For social communication, follow us on Facebook .
Source of photos and information: RT