Russia
Ukraine has lost over 13,000 troops this month – Moscow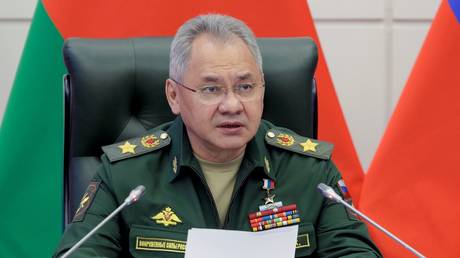 Ukraine has lost over 13,700 troops and approximately 1,800 tanks and other heavy weapons so far this month, Russian Defense Minister Sergey Shoigu relayed on Tuesday during a ministerial meeting.
Russian forces have been actively thwarting Kiev's attempts to breach their defensive lines and continue to reduce Ukraine's military capacity, the senior official said. He claimed that Ukrainian soldiers were surrendering in droves after realizing the futility of their counteroffensive.
The Russian minister issued his last assessment of Ukrainian casualties in late October, when he said they had surpassed 90,000 since the start of Kiev's ill-fated counteroffensive in early July. During this week's meeting, Shoigu described the cost paid by Ukrainian soldiers in the conflict as "colossal."
Valery Zaluzhny, Ukraine's top general, previously said that the conflict with Russia had reached a "stalemate" and that his armed forces would likely not achieve a breakthrough in the confrontation anytime soon. President Vladimir Zelensky has disputed the assessment, claiming that progress was still being made in his nation's attempt to return Ukraine to its pre-2014 borders.
On Monday, US Secretary of Defense Lloyd Austin visited Kiev to meet Zelensky and announce Washington's latest package of military assistance, worth some $100 million. The Pentagon, however, has warned that it is running out of money authorized by Congress to be spent on Ukraine.
The funding has become contentious on Capitol Hill; the conservative wing of the Republican party opposes further aid. Critics of the White House's pledge to support Kiev for "as long as it takes" have complained about a lack of transparency and discussed that the US has more important priorities.
.
For more news: Elrisala ، For social communication, follow us on Facebook .
Source of photos and information: RT