Russia
Ukrainian military pilot defects to Russia – media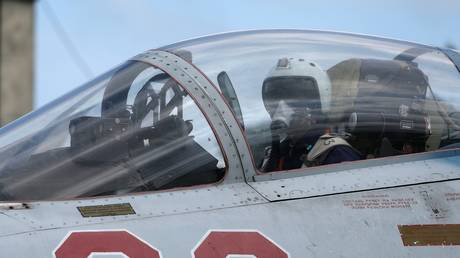 A military pilot with the Armed Forces of Ukraine has come to Russia, TASS reported on Saturday, citing a person who allegedly organized the pilot's flight over the frontlines. The Ukrainian pilot in question is an active-duty serviceman who held the rank of "senior officer" with Kiev's forces, a Russian Telegram channel following this situation has claimed.
"The Ukrainian armed forces pilot is currently in Russia and is being interviewed by the Federal Security Service," a Russian military strike helicopter pilot identified by TASS as Aleksey Voevoda told the agency. The Russians were reportedly behind the operation.
Voevoda declined to reveal any details about the operation, adding that he could not share them now. Some Russian Telegram channels have claimed that an interview with the Ukrainian pilot might be published soon. His identity and rank have remained unclear so far. According to Voevoda, the Ukrainian pilot was a flight commander in Ukraine.
The pilot in question has reportedly been helping the Russian forces since the start of the conflict between Moscow and Kiev, according to a claim by the deputy information minister of the Donetsk People's Republic, Daniil Beznosov. "The Ukrainian pilot had come down to our side from the very beginning of the special military operation and was helping us with information and in other ways," the official wrote in a Telegram post.
These developments came amid the largely stalled Ukrainian counteroffensive. The operation launched by Kiev in early June has failed to bring about any meaningful changes to the frontlines over several months. On the contrary, it has also led to heavy losses in personnel and material on the Ukrainian side.
In late October, Russian Defense Minister Sergey Shoigu said that Russian troops had "taken down 24 planes in five days." Earlier the same month, Russian President Vladimir Putin revealed estimates that Kiev lost over 90,000 soldiers in its counteroffensive. According to Putin, the Ukrainian military also lost 557 tanks and almost 1,900 armored vehicles over the same period.
.
For more news: Elrisala ، For social communication, follow us on Facebook .
Source of photos and information: RT